How to get in touch with us
AuPairCare is your strong and reliable partner by your side for every step of the way. We will help you prepare for your adventure as an au pair abroad and support you throughout the entire process. If you have any questions you can contact us via email, phone or WhatsApp.
AuPairCare Europe GmbH
Giesebrechtstr. 10
10629 Berlin
Deutschland
Telephone: (+44) 2036956362
WhatsApp: (+49) 30 84 39 39 91
E-mail: info@aupaircare.eu
Please note: Due to the current circumstances around the Covid-19 pandemic we are unfortunately unable to cover our regular office ours as usual. We will try to answer all calls, but recommend not to wait for an available agent for too long and leave a message on our voicemail instead or send us an email regarding your inquiry. We will make sure to get back to you as soon as possible. Thank you for your understanding.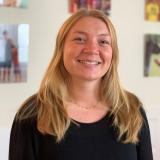 Spend six to twelve months in a carefully selected host family, allowing you to experience everyday life in metropolitan areas such as Sydney or Melbourne.
Read more
As an au pair in the USA you have the unique opportunity to get to know and love the everyday life of Americans for 12 months or more. By taking care of the children, you will quickly be integrated into your host family and gain a deep insight into American life.
Read more