Requirements for the au pair programme
As an au pair, you are responsible for taking care of the children of your host family during your contractual working hours. During the day, you are often the sole supervisor for the little ones and take care of their safety as well as their physical well-being. However, as an au pair, you are not only supervisor but also playmate. Keep in mind that your host parents entrust you with their most valuable possession. For this reason, it is important that au pairs fulfil certain requirements.
Send us your questions through WhatsApp
Do you have any questions about the au pair program? You can also contact us directly via WhatsApp. We look forward to your message! Due to the current situation, it may take us a bit longer to respond. We apologize and thank you for your understanding.
What you should bring
Love for children is the number one requirement, because your everyday life will hardly revolve around anything else. You will manage different tasks and be a chauffeur, chef, teacher, playmate, reader and entertainer. Experience in childcare is important and strongly desired by the host parents.
Further au pair requirements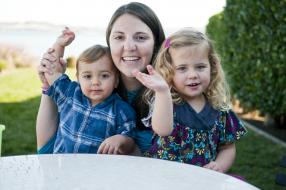 If you are at least 18 years old, you already fulfill the second prerequisite for au pairs. You should also be unmarried and childless. Since little ones can keep you on your toes, good physical health is also a requirement for an au pair stay. In addition, only non-smokers are accepted into the programmes, because au pairs are not only supervisors, but also role models for their host children.
Driving kids to school, picking them up from after school activities or taking them to playdates with other children: Au pairs often travel by car. Therefore, you should already have a valid driving license. If not - no problem! You can still apply and get your license during the application process.
Do you meet the requirements? - Your checklist
you are between the ages of 18 and 30 (18-26 for the USA)

you are unmarried and childless

you are healthy and a non-smoker

you have a valid driving license and driving experience

you have a high school diploma (or equivalent)

British citizenship or an unlimited residence permit 

at least 200 hours of childcare experience, proved by at least two separate references

you are flexible and responsible
Your experience in childcare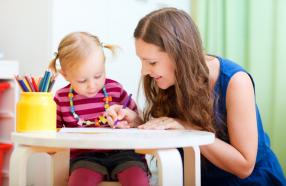 As an au pair, you will not only travel and discover a new country, but also take care of young children. Your host family trusts you with a lot of responsibility and wants to make sure that you are up to the challenge. Proof of childcare experience is therefore a prerequisite for au pairs. In general, the more experienced you are, the faster you will find a host family. 
There are many ways to gain childcare experience. These do not only include classic babysitting jobs, but also internships in kindergartens or daycare centers, coaching young sports teams or working as a camp counselor or tutor.
You need at least two up-to-date references for your application from people who are not related to you who can confirm your childcare experience. These references should be able to prove at least 200 hours of experience, ideally with children under the age of 10. 
Explore our program offers
As an au pair in the USA you have the unique opportunity to get to know and love the everyday life of Americans for 12 months or more. By taking care of the children, you will quickly be integrated into your host family and gain a deep insight into American life.
Read more
Spend six to twelve months in a carefully selected host family, allowing you to experience everyday life in metropolitan areas such as Sydney or Melbourne.
Read more
You meet all requirements?
Perfect! Start directly with your non-binding and free application! Becoming an au pair is so easy!