Au pair USA - Costs & Benefits
Our au pair USA programme fees are fixed package prices with no hidden costs. While you plan your au pair stay with us, you bear no financial risks. Payment of the fees is not due until you have chosen your host family. In the US, your accommodation and meals are included in the programme price and your flights are paid for by your host family.
Your Au pair costs for America
| | | |
| --- | --- | --- |
| Programme | Programme Length | Fees |
| Au Pair in the USA | 12 months + 1 month of travel (option to extend to 24 months) | £ 1.090 |
| Pro-pairs* | | - £ 200 |
| Returning Au Pairs* | | - £ 200 |
What our US Au pairs love: Flexible return flights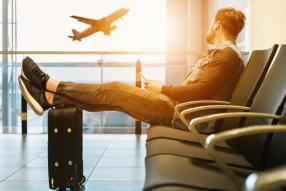 Our costs for the USA program include a free outbound flight from all major European airports to your host family and a free return flight home from any major city in the USA (if the au pair year has been successfully completed). The flight costs are paid by your host family.
Special highlight: Your return flight from the US does not have to start from the airport near your host family. With us, you can choose one of about 100 selected departure airports in the US. This allows you to plan your travel month flexibly without any additional costs.
Contract
Contractual regulation of your duties and working hours (maximum 45 hours per week)

Your own room and free board

Weekly pocket money of at least $215 * (AuPairCare Minimum)

Tuition fees for up to $500 for college courses (6 Credits or 60 hours)

2 weeks of paid holidays (10 working days) 

1 1/2 days of free time per week

1 completely free weekend per month

1 month of travel in the USA after successful end of the programme

Comprehensive training and support with our AuPairCare Virtual Academy
Flights
Free return flight from all major European cities to America including US connecting flights from the orientation to the host family (covered by host family)

Free return flight from your host family - or, if desired - any another major airport in the US to one of the departure airports in your home country (covered by host family)
Visa
Authorized visa support and provision of the necessary forms (DS 2019) 

Service Fees paid for by AuPairCare
Insurance
Complete insurance package (covered by your host family) for 12 months including liability insurance during your working hours. 
Extras
Certificate of successful participation 

Optional one-time extension of the au pair stay for 6, 9 or 12 months 

Between $250 USD to $500 USD college tuition to earn 3 or 6 credits (depending on length of extension)
What's not included
A few fees and expenses will be covered by you, such as visa fees at the embassy. These additional costs include:
Visa fees (currently approx. US $185)

Costs for issuing a police certificate, a health certificate, an international driver's license, and a passport

Costs to get to your personal interview in the UK

Costs for any extra luggage 

Taxes in the US
*The U.S. Department of State determines the minimum amount of weekly allowance for child care provided by au pairs. The calculation is based on the federal minimum wage after deducting 40% for room & board. AuPairCare has increased the minimum stipend to $215, this is higher than the regular minimum set by the U.S. Department of State. Host family and au pair are free to agree on a higher compensation.
Discounts for Au pairs
Take advantage of our special offers!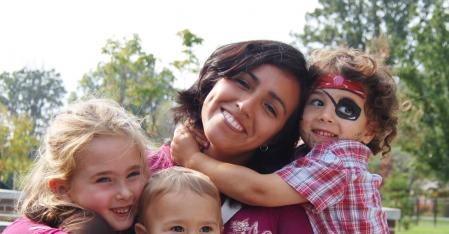 £200 Comeback Discount
You have been abroad with AuPairCare or the Intrax family and can imagine going abroad again for some time? As a former participant you will save £200 on the programme fees.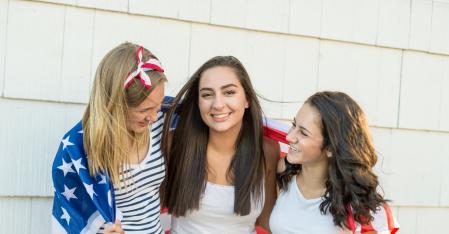 £150 Bring a Friend Special
Share your excitement with your friends and convince them to be an au pair in the USA just like you! As a thank you token, we will waive £50 of the programme fee for both you and your friend. You will receive this discount each time an applicant travels to the US with us based on your recommendation.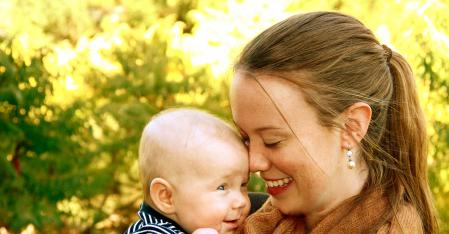 Pro-Pair Special
You have already been an au pair before (at least 6 months), done an apprenticeship or studied in the fields of childcare, childhood education or another related field prior to your match? If you prove your qualifications in your application, we reward your experience with a £200 discount!
£200 Pro-Pair Discount
Do you have extensive childcare experience? You can save £200 if you meet one of the following criteria:
Baby Plus: At least 200 hours experience in the care of infants (0-2 years)
Infants are not just cute, they're also growing up really fast. As an au pair, you will be there when the baby crawls for the first time, starts eating by itself, takes its first steps or speaks the first word. If you can prove at least 300 hours of experience in the care of small children under the age of 1, not only will you have better placement opportunities, but you can also save £200. In addition, you'll have the chance to receive a 5-day certified Au Pair (ISAP) Certified Specialist training, focusing on nursing and infant development. To participate in ISAP training, you must be selected by our American AuPairCare organization.
Repeat Au pair: A successfully completed Au pair stay of at least 6 months
In the past, an au pair stay in the US was a once in a lifetime adventure. Thanks to new visa regulations, you can become an au pair for a second time. We support your exciting plan with a £200 discount on the programme fee.
Professional experience with children
You fulfill the current eligibility requirements for the AuPairCare programme and have successfully completed your studies in one of the following fields: 
Kindergarten teacher, social worker, teaching assistant, pediatric nurse, midwife, medical nurse, children's therapist, or children's logopedist.
Then you can look forward to a remission of £200 on the programme fees!
Please note that discounts cannot be used in conjunction with each other.
Save the program fee! Our new 5-friends-Discount
You can save the full program fee for our USA program with AuPairCare! With our new 5-friends-discount you can recruit other participants and get 150€ discount on your program fee for each participant. If you recruit a total of 4 people and they become participants, we will even refund the remaining amount of your program fee! At the same time, your recruited friends will also receive a 150€ discount - after all, sharing is caring.
How it works
All you have to do is make sure that your friends enter your name in the field provided when they register on our website. This way we can track that this person was recruited by you. As a thank you, this person will also receive a discount of 150€. Once the recruited person has left, you will either receive a refund of 150€ or a credit for 150€ on your program fee. Once your name has been entered four times in the appropriate field for different participants who have left, you will receive a refund or credit for the difference to the full program fee in addition to the 4x150€. A refund or credit beyond the program fee is excluded.
Requirements
The recruited persons must not be registered with us at the time of the recruitment and can only be named once each. Referrers cannot be recruited themselves since they are already registered with us at that time. The discount is valid only for the USA program and cannot be combined with other discounts. The discount will be credited only after the recruited participants have left the country.
You want to start as soon as possible?
Become an au pair in the USA and start your programme with us.